In 1738 Pope Clement XII published a Papal Bull sanctioning freemasonry and freemasons. Taking his lead from Rome, Philip V prohibited freemasonry in Spain in 1740, issuing a decree that those deemed freemasons would be condemned to the galleys. Portugal followed suit with a similar proscription, albeit that an English Masonic lodge had been established in Lisbon in 1735 by British merchants who enjoyed the implied protection of the Royal Navy:
They write from Lisbon, that by Authority of the Right Hon. The Earl of Weymouth, the then Grand Master of all Mason Lodges, Mr George Gordon, Mathematician, has constituted a Lodge of free and accepted Masons in that City; and that a great many Merchants of the factory, and other people of distinction, have been received and regularly made Free Masons; that Lord George Graham, Lord Forrester, and a great many other gentlemen belonging to the English Fleet, being Brethren, were present at constituting the lodge; and 'tis expected that in a short time it will be one of the greatest abroad.
In 1741 John Coustos, a diamond dealer, a member of the Huguenot lodge at Prince Eugene's Head Coffee House in St Alban's Street, London, and the founder of Villeroy-Coustos Lodge in Paris, established a Lodge in Lisbon. Shortly afterwards he was betrayed to the Inquisition and accused of heresy. Arrested and tortured, Coustos claimed that he was unaware that freemasonry had been prohibited in Portugal and, in any event, that the lodge had met at 'private houses of chosen friends' and not in public. Despite his protestations, Coustos was found guilty and sentenced to five years in the galleys.
Coustos nonetheless managed to get a message to John Barbut, his brother-in-law, a well-placed government official in London, and British diplomatic pressure was exerted to secure Coustos's release:
The Earl of Harrington was so good as to endeavour to procure my freedom [and] spoke to his grace the Duke of Newcastle… with a view to supplicate for leave from our sovereign that his minister at Lisbon might demand me as a subject of Great Britain. His Majesty interposing in my favour and his commands being dispatched to Mr Compton, the British minister at Lisbon, that gentleman demanded my liberty of the king of Portugal, in his Britannic Majesty's name, which I accordingly obtained the latter end of October, 1744.
The Earl of Harrington was Secretary of State for the Northern Department; the Duke of Newcastle, Secretary of State for the Southern Department and responsible for diplomatic relations with Portugal. Harrington was a freemason, as was his brother, Charles Stanhope, and his cousin, Lord Chesterfield, as was Newcastle.
Following his return to England, Coustos wrote Sufferings setting out his experience at the hands of the Inquisition and containing 'Copper Plates descriptive of the Tortures he endured'. Published in 1746 and dedicated to Harrington and Newcastle, the book was edited before publication, probably at Newcastle's behest, with additional anti-Catholic material included so that it could fulfil a propagandist role in the wake of the 1745 Jacobite Rising.
English Masonic Lodges in Portugal were followed by Irish and French Lodges. But domestic Portuguese freemasonry began only in the nineteenth century. In 1802 in agreement with the Grand Orient of France, a Lusitanian Grand Orient was formed and recognized soon after by the Antients' Grand Lodge in England. It continues to be recognized by the Grand Orient of France and is part of a continental European Masonic tradition which invokes liberty of conscience. A second Portuguese Grand Lodge, the Grande Loja Legal de Portugal, was founded in 1991 and is recognised by the United Grand Lodge of England, the Grand Lodges of Ireland and Scotland, and other Anglo-Saxon grand lodges. English Masonic lodges are also present in Portugal operating under the direct supervision of UGLE.
Click on the link below to read an excellent article by Fernando Marques da Costa:
The 1723 Constitutions in Portuguese Masonic Historiography
And click below to read 'Freemasonry in Portugal', the Inaugural Address of H.T.C. de Lafontaine, the Master of QC Lodge in 1929.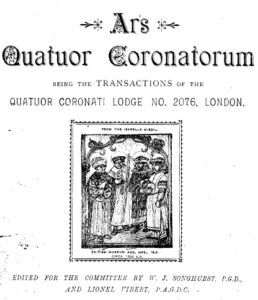 SPAIN
The first Lodge established in Spain was formed in 1728 by Charles Labelye, a close colleague of Jean Theophilus Desaguliers. A petition to constitute the Lodge had been presented to the Grand Lodge of England in April that year:
The Deputy Grand Master acquainted the Brethren that he had received a Letter from several Masons at a Lodge at Madrid in Spain, which he read to them, and the Grand-Lodge unanimously agreed to what was prayed for in their Letter, which is as follows –
Right Worshipful Master
We here undersigned Masons, free and accepted, residing at present in Madrid and other places of the Kingdom of Spain, take the Liberty of this Letter as our Duty oblige us to acquaint our Most Right & Worshipful Grand Master, his Worthy Deputy, the Grand Wardens, and all the Lodges of Masons now constituted in England, that having been always very desirous to see our Ancient Society propagated, its true and virtuous Designs encouraged, and the Craft flourish in every place where our Affairs have called us, Resolved accordingly to propagate it in this Kingdom whenever it could be done in a lawful manner. And as we had some time ago the Opportunity of the presence of his Grace the Duke of Wharton, we petitioned him to Constitute a Lodge in this Town, the which he readily granted and executed, and after our Lodge was formed we accepted and made Masons three persons here under mentioned, and Just After it was Resolved unanimously to acquaint with our Proceedings our Grand Master and the General Officers in England, to all which his Grace submits himself entirely having acted in this Occasion as a second Deputy.
Be pleased therefore to acquaint our Grand-Master and all the Lodges in general at the next Quarterly Communication with the Contents of this Letter, and we expect the favour to be inserted in the Book under the name of the Madrid Lodge, our Meetings being fixed at present on the first Sunday in every Month. We hope to send at the Quarterly Communication that shall be held about St John Baptist's day of this present Year, a longer List of Members of our Lodge and a Copy of such By Laws as we Resolve upon as they are thought proper for the Country wherein we are at present for the Union amongst us and the Charity to the poor, so much recommended and exercised in Our Ancient Society, upon which in general we pray God Almighty to shed his most precious favours and blessings.
We are, Sir and Right Worshipful Master,
Your most dutiful Brethren and humble Servants.
Dated in our Lodge at Madrid
15th February 1728 N.S.
By his Grace's Orders
Philip Duke of Wharton &c. Deputy Grand Master
sic subscribitur
Charles De Labelye Master }
– Richards Senior Warden} pro tempore
Thomas Hatton Junior Warden}
Eldridge Dinsdale
Andrew Gallwey
Following his return to London, Labelye received a formal vote of thanks from Grand Lodge:
Mr Labelle the present Master of the Lodge held at Madrid in Spain stood up and confirm'd what was some time past delivered in a Letter from the said Lodge to the Grand Master and Grand Lodge in England (concerning their Regularity and submission to us etc.) and acquitted himself in a handsome manner like a Gentleman and a good Mason. Then the Health to the Brethren of the Madrid Lodge was propos'd and drank with three Huzzas.
The Lodge is notable not only because it was the first to be constituted in Spain and the warrant the first to be issued outside the British Empire, but also because of the presence of the exiled Duke of Wharton, a Jacobite. Indeed, the lodge met initially at Wharton's rooms at the Fleurs de Lis in St Bernard's Street, Madrid. It is tempting to believe that Labelye had been asked to seek out Wharton and that the lodge was constructed in part as a means of gathering information on his activities. There are no extant records but the request may have been passed to Labelye by Charles Delafaye directly or via Desaguliers, whom Delafaye knew well. Not only were Desaguliers and Delafaye colleagues at the Horn Tavern and at the Royal Society, as well as fellow Huguenots, but Delafaye's wife, Elizabeth, was godmother to Desaguliers' daughter of the same name.
The subsequent history of freemasonry in Spain is principally one of repression, prohibition and persecution, interspersed with comparatively short periods of tolerance. When Francisco Franco came to power in 1939 freemasonry was banned in Spain as a threat to the state and it was only in 1979, four years after Franco's death, that the ban was declared unconstitutional.