John Senex
John Senex (1678-1740), was born in Ludlow, Shropshire. He moved to London and in 1692 was apprenticed to Robert Clavell in London, later the Master of the Stationers Company. Senex was an exceptional talent and became an engraver, cartographer and geographer, arguably the most skilled in eighteenth-century London. He was appointed surveyor and geographer to Queen Anne and established premises in the Strand, and afterwards in Cornhill and at the Globe against St Dunstan's Church in Fleet Street, from which he produced and sold maps, terrestrial globes, astronomical models and engravings, as well as scientific instruments.
Following his work on the 1723 Constitutions on behalf of Grand Lodge, and recommended by Desaguliers whose scientific books Senex had published, Senex was rewarded with appointment as a Grand Warden, taking office in the year the Constitutions were published. Five years later Desaguliers sponsored Senex as a Fellow of the Royal Society.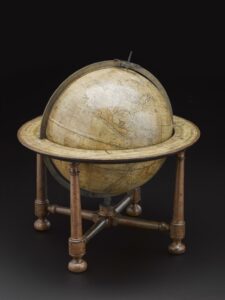 John Hooke
John Hooke (c.1691-1730), a bookseller, stationer and publisher, had premises at the Flower-de-Luce, close to St Dunstan's Church in Fleet Street, the home of British printing and publishing. Born in Sussex, Hooke was apprenticed to Charles Harper of the London Company of Stationers in 1704 and became a Freeman of the Company eight years later.
Hooke and Senex are not known to have collaborated prior to the publication of the 1723 Constitutions and do not appear to have done so afterwards other than in connection with Ephraim Chambers' Cyclopaedia, another book with Masonic links. Both men were freemasons, Senex a member of the Fleece Tavern in Fleet Street (1723 membership list), and Hooke a Warden of the lodge meeting at the Fountain Tavern in the Strand, now Royal Alpha Lodge No. 10 (1725 list).
A more detailed perspective on Senex and Hooke is available in Andrew Prescott, 'The Publishers of the 1723 Book of Constitutions', AQC 121 (2008).
The Senex Globe (1738) is copyright Board of Trustees of the Science Museum, London, and used under a Creative Commons Attribution Non-Commercial Licence.